Our Curv Technology
STRONG & LIGHT thanks to CURV technology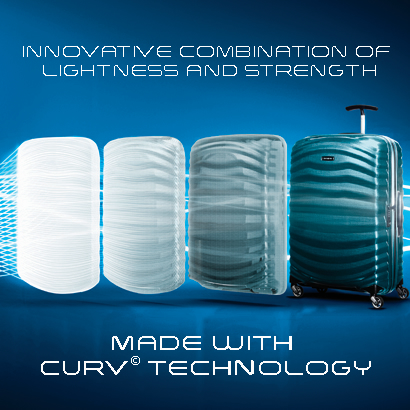 Our Curv Technology
STRONG & LIGHT thanks to CURV technology
Revolutionary CURV® Material
Samsonite is proud of our products; Lite-Locked, Cosmolite, Firelite are made with the revolutionary Curv® material, (produced by Propex in Germany) and is exclusively used by Samsonite on luggage. The shell is formed by heating and compressing different layers of woven polypropylene, we compose very qualitative self-reinforced CURV sheets, also known as self-reinforced composite sheets. These CURV sheets are known for their high energy absorption, outstanding impact performance, especially at low temperatures. That's why CURV is also used in ice hockey shoes, skin guard protection, automotive under shields, anti-ballistic body armor etc.
Samsonite CURV® patented production process

Shell forming process patented by Samsonite
Self-reinforced design – spine shaped ridges
More strength with less material
Extra light, extra strong
By using the revolutionary CURV material in our product, we offer a real superior technology in order to withstand the rough baggage handling during many trips. Also at low temperatures.